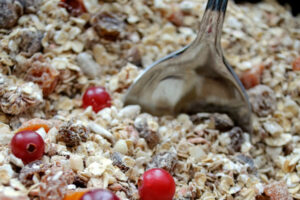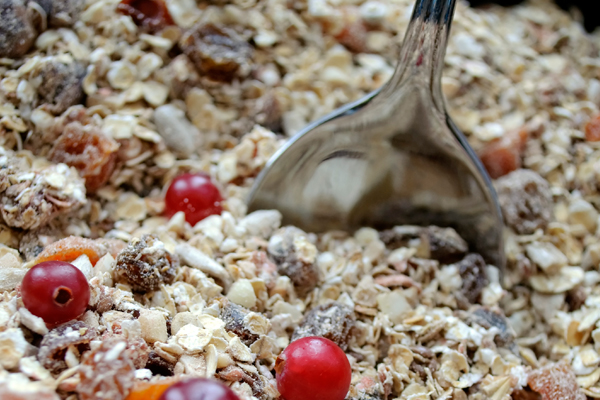 Start your day with a super sprinkle on your skyr or eat the muesli with milk.
My breakfast muesli:
Set the oven to 160°C before you start mixing the ingredients so that it is ready when you have finished mixing the ingredients.
I use rolled oats as a basis.
 The rest you can add according to taste and the amounts you have of each ingredient:
Hazelnuts, walnuts, almonds, pecan nuts, Brazil nuts.
Raisins, light or dark
.
Various seeds such as pumpkin seeds, sunflower seeds, linseeds, sesame seeds
.
Dried banana, pineapple, mango, cranberry, goji, kiwi, apricot.
Ground coconut and chia seeds.
Jaggery or coconut fibres
.
The variations are endless.
Mix everything on a baking tray, add a little neutral tasting oil such as rapeseed oil and sweeten with a little runny honey.
Sprinkle with SIKANI Organic Sea Salt fino that will add a lovely flavour in combination with the sweet honey.
Place in the oven for approx. 20 minutes. Turn over the mixture a couple of times so that everything is roasted evenly – rolled oats have a tendency to "fall to the bottom".
Store in a jar with a close-fitting lid – one baking tray fills approx. one 1-litre jar.
When I was on Madeira, I bought dried hibiscus flowers at a gigantic market and they taste absolutely delicious and look fantastic; we also bought dried tangerine – a mix between mandarin and clementine – as well as dried aloe that looks like coconut flakes and has a fresh and sweet taste. So when you are travelling, remember to look for local dried fruits and nuts. They are easy to take home and on top of that, you will be able to have a little taste of your holiday every morning.